What you'll learn
What are the Medtech impact, market size and companies
What is Regulatory Affairs
Regulatory fundamental knowledge
Related soft skills
Practical sharing and demo on submission by an industry expert
Requirements
Anyone who interested to learn about Regulatory Affairs can join this course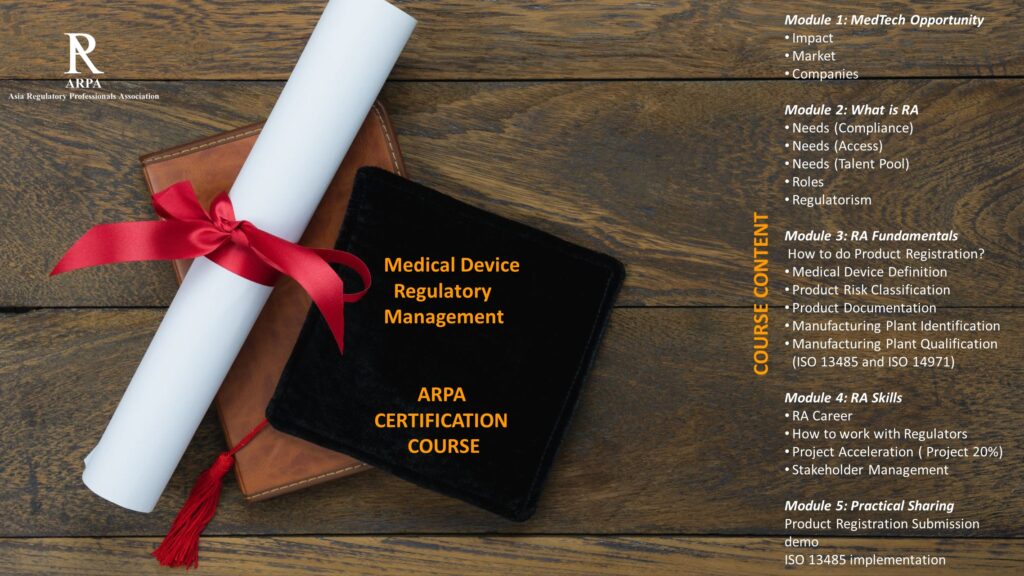 Description
Medtech represents a critical sector in today's economy, and it is also one which is highly regulated. Besides being typically recession-proof, it is fascinating to witness how several parts of Medtech has experienced accelerated growth during the Covid-19 pandemic.
This online certificate course aims to provide fundamental medical device regulatory training to anyone who is already working within Medtech, or otherwise having an interest to enter the Medtech sector. This course is highly recommended to Medtech practitioners in other non-regulatory functions such as Commercial, R&D, Quality and Supply Chain, as having a fundamental understanding of regulatory will certainly benefit their own roles, since regulatory is often deeply aligned with the organisation's growth strategy.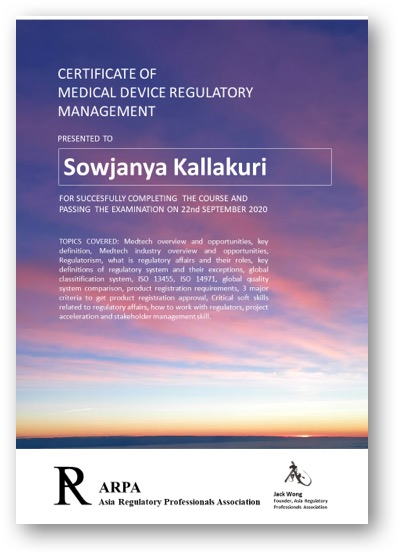 Course syllabus
Module 1 – Medtech opportunity: What are the Medtech impact, market size and companies
Module 2 – What is Regulatory Affairs
RA needs in terms of compliance, treatment access and talent pool.
What is RA roles
What is "Regulatorism"
Module 3 – Regulatory Fundamentals: How to perform Product Registration?
Module 3.1 – Medical Device Definition
Module 3.2 – Product Risk Classification
Module 3.3 – Product Documentation
Module 3.4 – Manufacturing Plant identification
Module 3.5 – Manufacturing Plant qualification (ISO 13485 and ISO 14971)
Module 4 – RA skills
Module 4.1 – RA Career specific skills
Module 4.2 – How to work with Regulators
Module 4.3 – Project Acceleration
Module 4.4 – Stakeholder Management
Module 5 – Practical sharing by industry experts
ISO 13485 implementation sharing
Product Registration submission demonstration
Who this course is for:
Regulatory and non-regulatory personnel within the Medtech sector
Anyone not currently within the Medtech sector, but with an interest to enter the sector
Price
USD 500
USD 250 (members price)